My DT was doing really well during his quarantine......so i added a female to the tank, totally seperated from the water he was in to see if he would actually like her, preparing for my plans i mentioned in the genetics thread.
He built a great bubblenest overnight after the first day the female was in there. The females has been conditioned for 3 and a half weeks, so was in great condition for spawning and coloured up quickly.
Woke up the morning two days after adding her and she had jumped in with him....nothing happened, so put her back in her container.
Went to work that day and came home to find she'd jumped in again and they had spawned already...nest was FULL of eggs!!!
So removed her, male tended to the nest and he has been removed today.
This is my best batch to date, there was so many fry, and to me the female didn't look big enough at the time to be carry so many eggs, but there are looooads of fry!!!!!

I'm abit annoyed cause i didnt have a chance to get pics or vids of them spawning which i always do....sad that may sound.
It's going to be a struggle to get pics as have added so many live plants to the tank, the fry have retreated into the depths and are hiden.
...but hey it's a start!!

...both male and female are doing great.
Will get some pics of fry up soon, just thought i'd let you know!
For now the male was...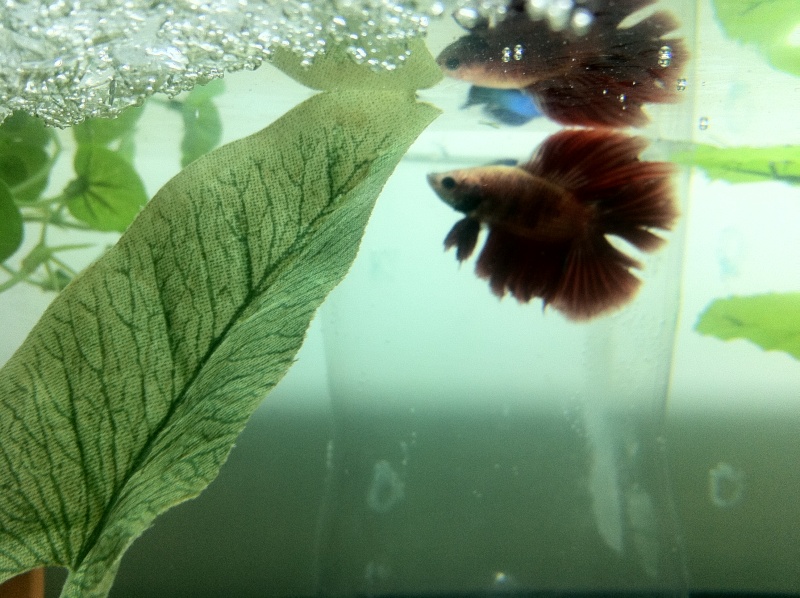 Female (this pic is old, her tail has healed now and aint got a good pic yet)
Last edited by damo2904 on Thu Mar 03, 2011 8:27 am; edited 13 times in total